Picture it: bright morning sun streaming in, birds chirping, and you lounging in the comfort of your one-of-a-kind sunroom. You've waited a long time to make this dream come true, and now there you are, cocooned in warmth or sun-basking in the heat yet sheltered from any weather or bugs. Your stress melts away as you take in nature's beauty right outside the windows and feel grateful that you took the time to research and find the perfect sunroom for your home. Whether it's winter with poofy snow-dotted trees or springtime with wildflowers blooming, you can sit back in this special place where nothing can rush you away. Life is good as you bask in the cozy glow of your reinvigorated living space.
Types of Sunrooms
Sunrooms – what a great way to feel connected to the sun and outdoors, all from the comfort of home! Providing an extension of your living area, sunrooms are designed to be an enjoyable space that you can use throughout the milder months, accessed directly from inside your home. Here are the 5 main types of sunrooms:
Four-Season Room
With a four-season sunroom, you don't have to limit yourself to enjoying your sunroom in just the warmer months. By incorporating additional insulation into the room design, this space can be heated and cooled so you can sit back and relax no matter what season it is-winter or summer.
Three-Season Room
Though three-season rooms aren't connected to your heating or cooling system and dont come with insulation, these sunrooms do have screens built into the glass windows that allow cool breezes inside while keeping bugs and critters out. These rooms are made to enjoy during the milder months, not harsh weather.
Attached Greenhouse/Conservatory Room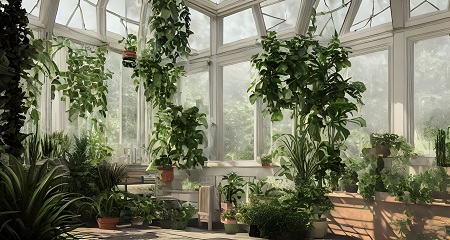 Greenhouse-style or conservatory sunrooms offer homeowners a unique way to bring some extra life into their homes. Boasting glass walls and a glass ceiling, these rooms are often temperature, light, and humidity controlled to keep plants healthy and vibrant.
Screen Room or Porch
If you're looking for a way to enjoy the fresh air without worrying about bugs, mesh-screen windows and walls have plenty of advantages. This option provides a space that is livable while the weather cooperates. It's the perfect alternative to a traditional sunroom and allows you to enjoy the sunshine and fresh air without any pesky insects.
Where You Should Put Your Sunroom
There are several factors to consider when deciding on the best location for a sunroom. To get the most use out of your sunroom, the location should account for the typical weather where you live, what kind of views you are hoping to gain, such as sunrises or sunsets, and if you want it near your trees or by gardens.
South-facing: where you will get most of the sun during the day. You will gain more heat.
North-facing: where you will get more shade during the day. You will gain more cool temperatures.
East-facing: get the best sunrise views in the morning. Provides more sun in the morning and shade the rest of the day.
West-facing: get the best sunset views in the evening. Provides more sun at the end of the day and more shade earlier in the day.
Benefits of a Sunroom
Sunrooms are like having a holiday right in your own home! To be surrounded by the calm and beauty of nature, without the hassles of going away… that's a luxury we all crave. When you add a sunroom to your home, you can enjoy it however you please: reading in natural light and fresh air; sipping hot tea while watching the birds take flight outside; hosting a lunch party with friends, using the sunroom as an extension of your living space – the possibilities truly are endless.
Here is a list of benefits and possible uses with your sunroom: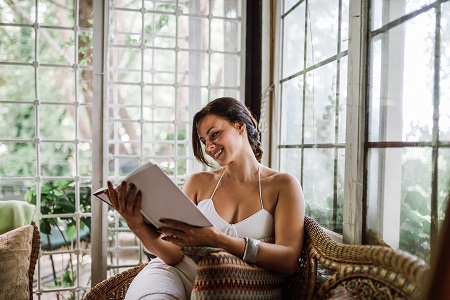 It could reduce the electrical bill.
It could increase your real estate value.
Increased endorphins from relaxing in the natural sunlight.
Have an additional living space for family and guests.
Use your sunroom as a space for hobbies like painting, a yoga room, a reading and/or writing nook, crafting, etc.
Use this space as a kid's playroom, an extra dining room, a nap room, etc.
Give your plants the perfect environment to thrive.
Use it as a bright office space.
Keep pests away while still enjoying the sun and outdoors.
Sunroom Expenses to Consider
It's not enough to factor in the additional costs associated with hiring a crew and the materials needed to build your dream sunroom – there's still quite a bit more to take into account.
Depending on where you live, you may be required to get building permits from your municipality or county, each of which can come at an additional fee.
Depending on the project's scope, you may need to factor in connections with existing ductwork or install a ductless mini-split system which would be more expensive than simply adding a window air conditioner unit.
If you decide to install electrical wiring or insulate the walls, that too demands further resources.
Don't forget those additional details like flooring, furniture, doors, and windows – all adding up when calculating the total cost of building your sunroom.
Once everything has been taken into account financially, you'll be well on your way to enjoying this brand-new addition to your home.
Sound Renovation Can Custom Build You a Sunroom
If you're looking for extra space in your home, sunroom additions are a great way to get the extra square footage you need. With Sound Renovation, Seattle and surrounding homeowners can enhance their properties with custom-built room additions such as sunrooms, bump outs, garage conversions, or an upgrade of living space tailored to their exact wishes. Our experienced professionals and trusted subcontractors are dedicated to ensuring seamless job progression to deliver quality results on time. No need to relocate anymore; our sunroom solutions can help create an ideal living space in the comfort of your own home. Contact our project team today to help you design your sunroom or other house addition and get a free house consultation.
Other related services we provide:
Second-story additions
Large-scale remodeling projects
Bump outs to increase space in your existing room
Bathroom design remodels
Kitchen in depth remodels
Interior and exterior painting
Visit our About Us page for more information about our company, or see our Gallery for work examples!