Additions for Your Redmond WA Home

When it comes to home additions in Redmond, property owners rely on Sound Renovation, Inc. Whether you want to add a single room or a second floor, we can scale to fit any need. Our company has worked extensively throughout Redmond, WA, providing additions and remodeling services for businesses and homeowners. Both of these have to meet unique guidelines depending on use, and our work is always technically excellent and meets building codes.
Enjoy the benefits of a new home addition today!
Depending on your needs, home additions can be made to accommodate leisure activities, expand the size of a room, create additional sleeping areas, or more. They're a great and cost effective option when you want to keep the property you have but expand the building on top of it. Just some of the benefits include: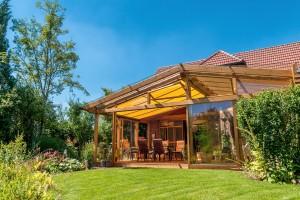 Cost-Effectiveness – For many homeowners in Redmond, WA, additions provide a very cost effective way to achieve their goals. Bump outs can expand the space of an existing room, and garage conversions provide livable space without adding onto an existing structure. With a wide range of options, additions provide the space you need without having to move.
Customization – Once of the best things about an addition is the ability to customize. We can work with an existing structure to seamlessly add onto it, providing the perfect extra space for your home. This is a great way to expand your house to fit a growing family. We can even build outdoor living areas with all the creature comforts you are used to, making them perfect for year round entertaining.
Value-Adding – Depending on the type of additions, Redmond, WA property owners can expect to see a sizable ROI. This varies with the addition chosen, but having a livable space that also increases your properties value is priceless.
Additions in Remond, WA include:
House Additions
Room Additions
Bump Outs
Conservatories
Garage Conversions
And More!
We only use experienced employees and sub-contractors for a smoothly run job site and efficiently executed construction. We keep a safe environment, and emphasise proper sequencing, this allows for a timely build without sacrificing the quality we're known for. No matter what you're looking for in home additions in Redmond, WA, we can provide it. Call (425) 444-3450 or Contact Us today.
We also provide addition services to the following locations:
Bellevue | Kirkland | Issaquah | Sammamish | Woodinville