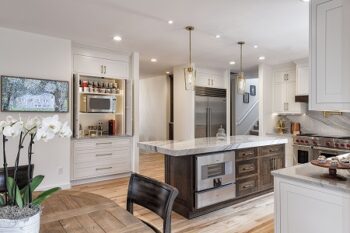 Kitchen Remodeling Contractor
Your kitchen is the hub of your house. It's where you live, eat, and play. You use your kitchen for hosting guests. You use your kitchen for sharing meals with friends and family. It's where you begin your morning and end your evening. Whether the kitchen has lost its luster or it is time for a change, kitchen remodeling in Redmond can make your old kitchen space feel new again. Call Redmond's true professional remodeling experts at Sound Renovation!
A kitchen is so much more than just a place for cooking food. It is a place for building memories. Every nook and cranny of the kitchen carries smells and experiences that you will remember for the rest of your life, so choose Sound Renovation, Inc. for kitchen remodeling and make it exactly what you've always dreamed.
We Provide Quality Kitchen Renovation
With over 17 years carrying a BBB rating of A+, we know what goes into a beautiful kitchen remodel. From time to expenses, to how you can make the most of both, our highest priority is creating satisfied customers who come back to our kitchen remodel company time and time again.
Services: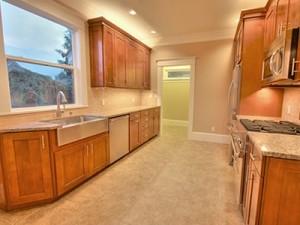 Kitchen Consultations

New Cabinet Installation

Kitchen Cabinet Refinishing

Kitchen Cabinet Staining

Kitchen Cabinet Painting

Interior Painting

New Countertop Installation

Countertop Refinishing

Kitchen Island Installation

New Appliance Installation
We Make Dream Kitchen Remodel Ideas Can Come to Life
Kitchen remodeling is a transformative process that elevates the heart of the home to new levels of functionality and aesthetics. With its capacity to enhance the overall living experience and increase property value, kitchen remodeling has become an indispensable investment for homeowners seeking to modernize and revitalize their living spaces. Our experienced team will craft a well-executed kitchen renovation that encompasses a myriad of elements, ranging from the selection of high-quality materials, efficient space utilization, and incorporation of cutting-edge kitchen appliances to the thoughtful integration of design elements that resonate with the homeowner's unique tastes and lifestyle.
Choose Sound Renovation for Your Kitchen Remodel Project
That's just a sampling of the complete kitchen remodeling services we offer. A skilled remodeling contractor in Redmond can bring any vision you may have for your kitchen to life. Experienced with both residential and commercial settings, it doesn't matter whether your kitchen remodel is occurring in the home or at work. We pride ourselves on completing Redmond, WA, kitchens and bathroom remodeling jobs as efficiently as possible. This means clean work and a safe job site so that we can do incredible work on your kitchen with as little inconvenience as possible.
Call us for the best kitchen remodeling and skilled contractors in Redmond.