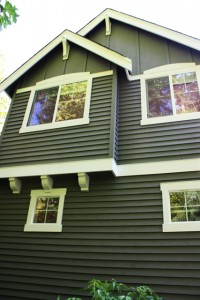 Exterior Painting
For professional exterior painting in Redmond, WA, you want Sound Renovation, Inc. We perform the most professional and comprehensive exterior painting in Redmond. Your exterior painting should last as long as your house does. We put our unparalleled experience and dedication to work for you to make sure it does. Thorough prepping just one piece of a complex process that when done properly, results in immaculate exterior painting. We take great care in performing every step of the painting process to the highest degree, including preparation. Sound Renovation also provides professional remodeling services in Redmond as well.
Your Professional Exterior Painters
Preparation is the foundation of any lasting exterior painting job. We take preparation seriously. Extensive preparation is important when doing interior painting or exterior painting. Because exterior walls are exposed to the harsh northwest sunlight, wind and rain, preparation is especially important on these surfaces. Our experienced, local painters understand this. We take each step of the exterior painting process just as seriously as the next, from prep to a beautiful application of premium paints. This ensures the highest quality work on your home or business:
Pressure washing
Surface protection
Scraping
Sanding
Stripping
Caulking
Priming
Painting
Exterior Painting Preparation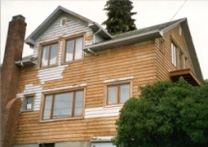 Sometimes a previous coating can flake and wear to the point of removal. To properly repair this home we had to strip large portions of the previous coating. This ensures that the remodeling and the coating we applied will last a long time. It's preparation like this that puts us above the competition. We always aim to provide the best in exterior paint services.
Exterior Painting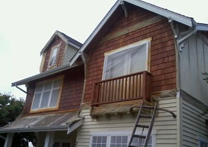 Paint application is the fun part of the process. It is important to apply the appropriate coating properly to each surface. By paying attention to each project's specific needs and your exterior paint ideas we can tailor the right products, application process, and paint film thickness. That way we can assure a coatings' maximum longevity.
Exterior Pressure Washing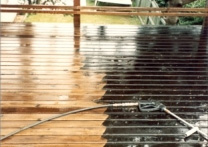 Pressure washing is an excellent cost-effective way to bring a tired surface back to life. This deck in Redmond, WA had grayed with age. A slippery layer of mildew also covered it. A treatment was applied to kill the mildew and then it was gently pressure washed. The deck was restored to a like new condition. After it dried thoroughly a high-quality preservative and sealer was applied.
When you want the best exterior painting in Redmond, choose us! Our prep process is extensive, we only use top of the line brand names, and you'll be satisfied for years to come. Call or Contact us today.