Winter is coming, and that means it's time to start preparing your home! While many people think of winterizing their homes in terms of things like weather-stripping and changing the furnace filter, there are other ways to get your home ready for the colder months. Here at Sound Renovation, we've been providing home remodeling in Seattle year-round with unmatched customer service for over thirty years, and we say there's more to winterizing than simply maintenance.
In fact, many of the best winterizing home improvement projects are actually remodeling projects. They make your home more comfortable and save you money on your energy bills. This can include installing new appliances, flooring, insulation and windows. Not only will this help keep your home warm during the winter months, but it can also save you a lot of money on your energy bills and make your home more comfortable to live in all year round.
So read on to learn more about what you can do this winter to make your home a cozy cottage.
Upgrade to Energy-Efficient Appliances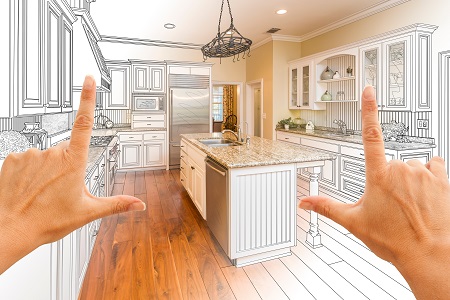 One of the best ways to make your home more energy-efficient during a remodel is to install new, energy-efficient appliances. These newer appliances are designed to use less energy than older models, which means they'll save you money on your energy bills. New refrigerators and washer/dryer units not only use less power, but they also s water, saving you money this winter.
But it's not just the kitchen and laundry that benefit from increased energy and water efficiency. You can also replace your old furnace or water heater with newer, more efficient models. Newer models of furnaces can work in tandem with newer models of thermostats to keep your home at a comfortable temperature without using as much energy. Meanwhile, the newer models of water heaters will heat up your showers and sink water faster with less energy.
Our custom-tailored service will handle appliance installations during the construction process of your new kitchen or bathroom. Please note, however, that while we can replace kitchen and laundry appliances, you will need an HVAC specialist for furnace replacements.
Consider a Smart Thermostat
Smart thermostats are another great option for increasing your home's energy efficiency. These devices can be programmed to automatically lower the temperature when you're not home, and they can also be controlled remotely via your smartphone or tablet. With a smart thermostat, you can ensure you're not racking up energy costs during your time away. And when you do come home, there won't be a surprise energy bill waiting for you.
Install New Carpet Flooring
One way to keep your home warm is to replace your floors with carpet! It's been proven that carpet is a great insulator, and it can also help to reduce noise because of the irregular fibers all woven together. As HVAC Seer explains: "Each inch of carpet thickness greatly increases its insulating power. The more fiber that is densely packed into the weave, the more heat retention you'll experience."
This insulating factor in carpets is called thermal retention and is represented as resistance-value or R-value. R-value works with a general rule: the thicker the carpet, the higher the r-value; the higher the R-value, the better the carpet retains heat. Standard carpet thickness is 7/16th, but there are thicker varieties. As such, carpets hover somewhere between an r-value of 1.00-2.00. Most carpetmakers will provide the r-value with the carpet, so you know just how toasty your toes will be.
Not Interested in Carpet? Rugs Work Too!
If you want to keep hardwood floors, a great way to make your home more energy-efficient is to introduce more rugs. The same rules of r-value apply to rugs, but they don't benefit from underfloor insulation as directly or reduce heating bills as readily as carpet flooring. Still, a great rug can really bring the room together as well as provide warm spots of comfort for your home during the winter.
Reinsulate your Underfloor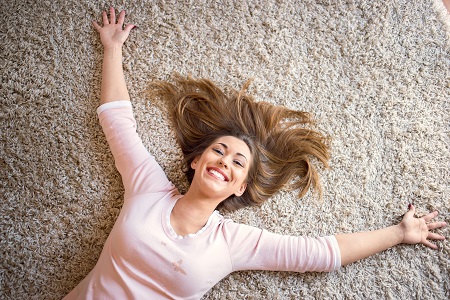 Regardless of whether you have carpet or hardwood flooring, installing new underfloor insulation can ensure your home's flooring doesn't leak heat. A well-insulated floor will make it easier to maintain a comfortable temperature in your home and save you money on your energy bills. As an added bonus, it can also reduce noise levels.
There are multiple types of underfloor insulation you can choose from. Urethane has the highest r-value ranging from 1.05 to 2.15. However, fiber padding is a solid competitor with an R-value ranging from 0.97 to 1.94 and loose-fill cellulose. All three types will insulate your home against heat loss, but they each have their own benefits.
Replace Your Windows
A great way to winterize your home is by replacing your windows. Okay, this one might seem a bit wild for a winter project, but, weather permitting, you can replace your windows during the winter.
Let us explain: old, drafty windows can let in a lot of cold air, making it harder to heat your home and leading to higher energy bills. This heat loss is represented as a U-value. It works like an R-value but in reverse. The lower the u-value, the better the window is at retaining heat. The typical double-paned window has a u-value of 0.3 to 0.4, but there are windows with a u-value as low as 0.15!
The installation process for winter window replacement is a bit different. Contractors will replace windows one-by-one to minimize heat loss, and they might also use a clear plastic film to seal the area around the window. This method is called shrink-wrapping, and it provides an extra layer of insulation and protection against drafts. Once the windows are installed, they will caulk and weatherstrip the area to further winterize your home.
It's Not Just About Making a Room More Energy-Efficient
Sometimes a winter project is just what the doctor ordered to help you get through those long winter months. And while winterizing your home with energy-efficient appliances, flooring, and insulation can help you save money on your energy bills, it's not the only reason to do it. If you're thinking about selling your home in the near future, a new addition, kitchen or bathroom remodel can help you get a higher return on investment!
Want to transform your basement into a lounge or game room? Have an attic that would make the perfect extra guest room? Winter is the perfect time to remodel it! Add some insulation to keep the space warm and cozy, and you'll be able to enjoy it all winter long. You can then start customizing and preparing the room for the summer months when you want to enjoy the outdoors more.
So don't let winter put a damper on your renovation plans! With a little bit of creativity, you can turn a winter project into the perfect opportunity to improve your home's energy efficiency, comfort, and resale value.
Ready to Plan Your Next Indoor Renovations This Winter?
Now that you have the blueprint here to remodel a more energy-efficient, winter-ready home, you also can take advantage of winter's slower construction season to schedule your renovation project. Many contractors offer discounts during the winter because they have more availability which means you can enjoy a more efficient home at a cheaper price.
If you're ready to start planning a winter remodel near Seattle, there's only one company to call on: Sound Renovation. Our general contractors specialize in kitchen remodels and can help you choose the best windows, flooring, and appliances for your needs, all the while providing an accurate estimate. We handle the entire project from concept to completion so you can focus on enjoying your new, winter-ready home. Our Google profile is filled with reviews from clients impressed with our thorough handiwork.
Check out our website or give us a call today at (425) 444-3450, and let us help you get your home ready for winter!